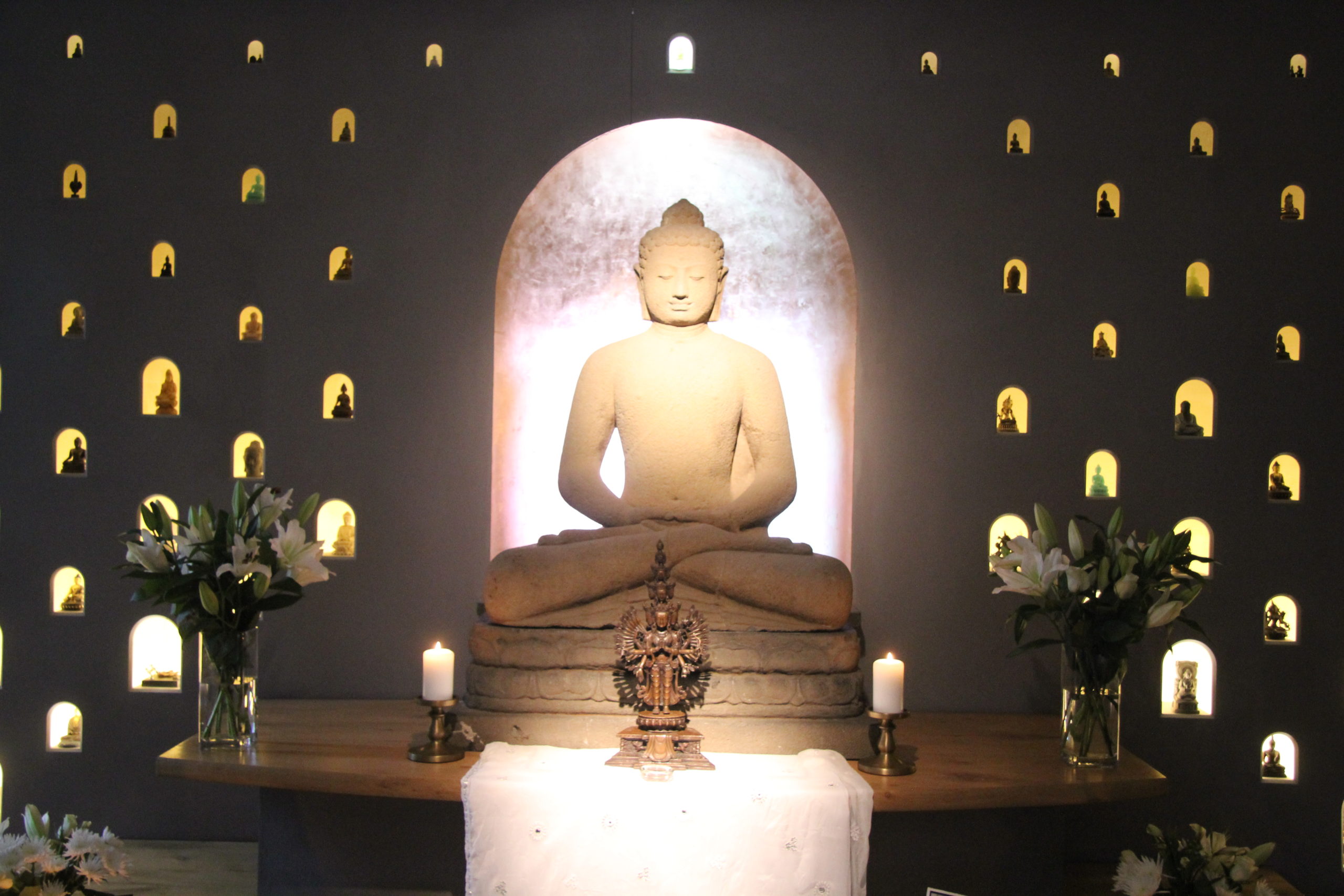 The Adhisthana Shrine is a visual representation of Adhisthana's relationship to the whole Triratna Buddhist Movement. The small rupas placed in the shrine-wall have been given by various centres, groups and Chapters worldwide and each of them ritually placed, the most recent gifted by the Buddhafield team. The small rupa above the head of the main Buddha was donated by Bhante Sangharakshita. Together these Buddhas form an aura for the central rupa, an aura of mutual blessings (an adhisthana).
Each morning, everyone on site meditates together with an ordained member of the resident community leading the meditation. This is a significant part of the ethos of Adhisthana signifying the residential community welcoming everyone into the collective life of Adhisthana. We sit in two rows on either side of the Buddha facing each other; this is more relational than some other arrangements, placing the emphasis on Sangha and Adhisthana as a gathering place for the whole movement: each one of us witnessing each other.
The first meditation starts with the Tiratana vandana, an ancient Buddhist chant in salutation to the Three Jewels. If you're not familiar with it then feel free to borrow the laminated copies available in the shrine room.
As with any shrine room, we ask people to remove their shoes before entering. There are shoe racks and coat pegs in the corridor outside. We also ask people not to wear their pyjamas. These are ways of showing respect as one enters a sacred space.
Please keep this atmosphere in mind when you enter and leave the shrine room. The first meditation is from 7.00am to 7.50am and the second from 8.00am to 8.30am. When you first go to the shrine room, please give yourself a little extra time to set up your place. Please don't arrive late, once we have saluted the shrine it is important to preserve the atmosphere. Similarly, when entering the shrine room for the second meditation, wait until those in the shrine room have started to leave before entering.
More information about Adhisthana please visit our FAQs page, or contact admin@adhisthana.org if you can't find an answer to your question.