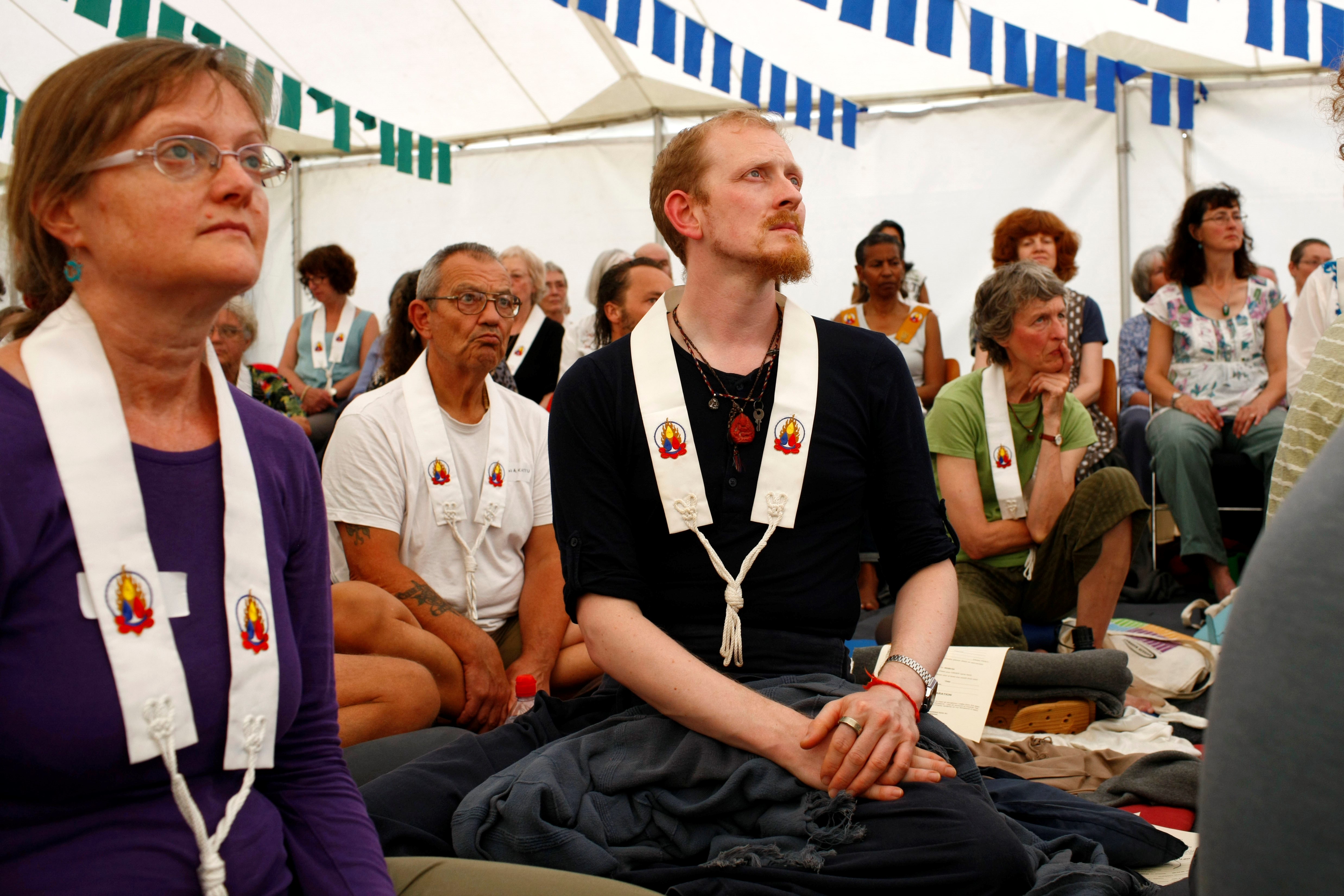 Frequently Asked Questions
Good to know
I have never gone on retreat before/never been to Adhisthana before – what do I need to know?
Great that you're interested in coming on retreat! We have a page with information if you're thinking of coming or have booked your first retreat. Check it out here.
Can I just come and visit outside of a retreat? Do I need to book?
Yes, you will need to contact the office to ask to visit. Let us know in advance the timing of your arrival so we can properly welcome you. Your bedroom number will be displayed on the noticeboard in the reception building (the small building on the left as you walk into the courtyard).
Do you have internet access?
If you need to use the internet you can connect to the WiFi in the reception building. However we encourage people to make the most of their time here and refrain from using electronic devices as much as possible.
Is Adhisthana disabled friendly?
We have several accessible bedrooms, and the lower dining hall has a wheelchair lift. The main shrine room also has a disabled access automatic door, and there are several disabled access toilets on site. Unfortunately, some of our large meeting spaces are on the first floor and are not accessible, so please let us know what access needs you have when you book to come so we can make arrangements whilst there is still flexibility in room use.

We are working to improve accessibility, so if you have feedback for us in this area please let us know.
Are there any rules?
No consumption of drugs or alcohol is allowed on site. No sexual activity anywhere on the Adhisthana land. No pets.
If you haven't visited before you might want to look at Shrine Room Etiquette under the 'Your stay' section, as well as look through the rest of this page. If there is a question you have that isn't answered here, please get in touch by emailing the Adhisthana office.
How old do I need to be to come on retreat or visit?
To come here on retreat you need to be 18 years old. If you are under 18 and would like to come, please get your legal guardian to contact the office.
Some of your events are single sex. I am trans/non-binary/gender diverse, what accommodation will I have?
If you have any concerns or would like to make a request for accommodation, then let us know when you book whilst there is still flexibility in our accommodation capacity.
Can I camp?
You are welcome to camp if you would like to – the cost remains the same. For some events, we primarily have camping spaces available, but this is clearly indicated before booking.
Can I come and help out?
We encourage people to come and volunteer and participate in the communal life of Adhisthana, assisting in the work that goes on here. If you would like to contribute, please contact the office.
Can I buy a print of Chintamani's painting of the Refuge Tree from you?
Adhisthana sells prints of Chintamani's version of the Triratna Refuge Tree to Mitras who have asked for Ordination and Order Members. If you would like to buy a copy of the print, please email us.
Before you arrive
What should I bring?
As well as bringing bed linen and the usual things you would take with you when going away, you may also wish to bring an alarm clock so you can turn off your phone. Going on retreat is an opportunity to live a simpler life for a little while, so please consider not bringing technological devices or other forms of entertainment. If you are unfamiliar with Adhisthana please read the document Coming on Retreat at Adhisthana.
Should I bring bed linen?
Yes please! We ask people to please bring their own bed linen – 2 pillowcases, a single sheet and duvet cover. This is especially so if you are travelling by car, or coming for a weekend event. If travelling from overseas we provide bed linen. If coming from with the UK and you need to borrow bed linen, we ask for dana to cover the costs.
Can I get picked up from the station?
We do not offer collection from the station when you arrive – you can find taxi numbers here. There will be a list up during the event for you to sign up to request a lift or taxi at the end of the event. A member of the Adhisthana office team will organise this for you.
Can I request to share a room with a particular person?
You are very welcome to ask to share with a friend – please request to do so when you book, by stating who you would like to share with in the "accommodation information box" in the booking form.
Can I share a room with my partner, or someone of the opposite gender?
We do not have mixed rooms, and partners do not share together.
Your stay
Can I arrive late or leave a retreat early?
If possible please arrive for a retreat on time – coming late can be disruptive for the retreat and you will miss the welcome announcements. If you are arriving late you can find your room number in the reception building.
We expect people to remain on site until the event end time stated on the website. If you intend to leave a retreat earlier than this let the office team know and we can discuss how to proceed.
What time does the retreat start/finish?
The start and end times vary between events, but the timings are displayed on the website in the description of the event. Please adhere to these timings.
How many people will there be on the retreat?
Events and retreats here vary widely in number of attendees. Smaller study retreats may be capped at 13, whereas larger weekend events may be as large as 120. There are sometimes several events happening at one time, so you may be on an event with 25 people, but there are 80 people on site.
Is lodging provided? What's the accommodation like? Can I have a single room?
We have a large number of simple twin rooms on both the ground and first floor, as well as 5 single ensuite rooms (allocated on the basis of medical need), and some dorm rooms of 3-6 people.
On large events we have larger dorms of up to 12 people. Rooms are simply furnished with a bed, bedside table, chair and lamp.
Do I need to participate in a work rota during my stay?
Yes, we ask everyone to do a daily task, which you will be signed up for when you arrive. We also expect people to contribute to the clear-up at the end of the event – this is an essential part of the programme and allows us to run Adhisthana well.
If you are unable to participate for health reasons, please state this on your booking form or let us know by contacting the office. If you plan to leave before the clear-up on the last day of the retreat, please contact us in advance so that we can discuss with you.
Can I wash my clothes while I am there?
You can hand wash clothes using a basin and laundry liquid, and there are lines in the barn where you can hang clothes that need to dry. Our laundry room is not for personal use, and please do not use the lines just outside the laundry as this is for Adhisthana use only.
Can I bring my pet(s) with me on retreat? Are Assistance dogs allowed?
We do not allow people to bring their pets on site as this can be very disruptive to a retreat atmosphere. If you have an assistance dog, please contact us and we will see if we can make arrangements to accommodate you.
what is the etiquette in the shrine room? What is the programme of meditation in the morning? Why don't retreats meditate separately?
Each morning, everyone on site meditates together with an ordained member of the resident community leading the meditation. This is a significant part of the ethos of Adhisthana signifying the residential community welcoming everyone into the collective life of Adhisthana. We sit in two rows on either side of the Buddha facing each other; this is more relational than some other arrangements, placing the emphasis on Sangha and Adhisthana as a gathering place for the whole movement. It is at this morning sit that we all witness each other participating in our different ways, and with this daily ritual collectively build momentum of practice – it is emblematic of the ethos of Adhisthana; we may be engaged in very different activities during the day, but we come together to participate in the shared life here.
The first meditation starts with the Tiratana vandana, an ancient Buddhist chant in salutation to the Three Jewels. If you're not familiar with it then feel free to borrow the laminated copies available in the shrine room.
As with any shrine room, we ask people to remove their shoes before entering. There are shoe racks and coat pegs in the corridor outside. We also ask people not to wear their pyjamas. These are ways of showing respect as one enters a sacred space.
The first meditation is from 7.00am to 7.50am and the second from 8.00am to 8.30am. Please keep the atmosphere in mind when you enter and leave the shrine room, for example when you first go to the shrine room, please give yourself a little extra time to set up your place. Please don't arrive late, once we have saluted the shrine it is important to preserve the atmosphere. Similarly, when entering the shrine room for the second meditation, wait until those in the shrine room have started to leave before entering.
I have lost something at Adhisthana, what shall I do?
If you are still here when you realise you have lost something, please go to the reception building, where lost property is stored in the cupboard. If you have already left, please contact the office so they can put your item on the Lost Property list. If we locate your lost item, it will be placed in the 'Claimed Items' box on top of the cupboard, where you or a friend can collect it when convenient. Anything that has been unclaimed for three months is stored elsewhere, and then donated to the charity shop after 6 months.
Food
I'm arriving late on the night a retreat starts. Could you save me dinner?
Yes, please let the office know in advance you will be arriving late and we will save food for you. Please let us know by 3pm on the day the retreat starts.
I have food allergies, or have dietary restrictions that are required for a medical condition, can you cater for this?
Please outline your restricted diet in detail on your booking form, and state the severity of your allergy/intolerance. For highly complex diets (i.e there are more than 3 things you can't eat) we may ask you to provide some of your own food. More information is can be found on the sheet: Restricted Diet Information
What kind of food do you provide?
All the food we provide is vegan. Tea/Coffee, toast and fruit is always available. There is porridge in the morning for those who wish to have it.
Payment
What methods of payment do you accept?
If possible we prefer people to pay before they arrive on site – ideally online through PayPal when they book. We can also take BACS or card payments. If necessary we can take card payments during reception at the start of the retreat. We can also take card payments for items from the shop – please come to the office to pay.
How much does it cost to visit?
It is £39 per night to stay here if you are working or supported. There is a reduced rate of £28 if you are unwaged.
I work for a Triratna institution. Can you invoice them for my booking?
Yes, there is a 'Book by Invoice' form at the foot of each retreat page. Please enter all the information requested on the form (including any accommodation or restricted diet information), and we will invoice your employer.
What happens if I need to cancel my visit?
If you need to cancel for any reason please let us know. If you are cancelling for a retreat we will refund you whatever you have paid minus the deposit, which is non-refundable and non-transferable under all circumstances. We maintain a strict consistency around this policy. If we cancel a retreat, we will refund you your full payment, of you can transfer your payment to another retreat.
I want to come on retreat but I can't afford to pay the unwaged rate. Is there any way I can come?
Sometimes people need financial help to come on retreat, so we have bursary places. Bursary places are not 'free' places, they are an opportunity for you to come on retreat and give as appropriate to your circumstances on a dana basis.
We may need to limit bursary places to one per person per year. This is because we want to enable as many people as possible to come on retreat, but it's always worth asking!
To apply for a bursary place, please contact the office and explain your situation, and we will try to enable you to come. Order members can also apply to the Abhayaratna Trust for financial assistance to come on retreat.