During Adhisthana's celebratory tenth anniversary year, we are delighted to announce that Akasalila, a local artist, has an installation on the Adhisthana grounds. After her recent displays at two Royal Academy shows, she has kindly offered to create and display one of her 'posts' here.
Standing near the library building and the pond behind the men's community, the post was installed the day before the full moon. Akasalila has been making these posts for a couple of years, and during 2023 the series at Adhisthana will reflect impermanence.
Slices of wood are stacked like large beads around a central pole and between each slice a colour is painted. These colours are drawn from the surrounding landscape and the current installation has the 'early spring' pallete. The colour peeks between the slices of wood as meters behind the post by the pond, the irises peep from the ground.
With installation dates linked to the cycles of the moon, each new iteration of the post will be seasonal. Like the surrounding gardens, the post will explode into colour before receding into autumnal tones and bare winter wood. Eventually it will rot back down into the earth.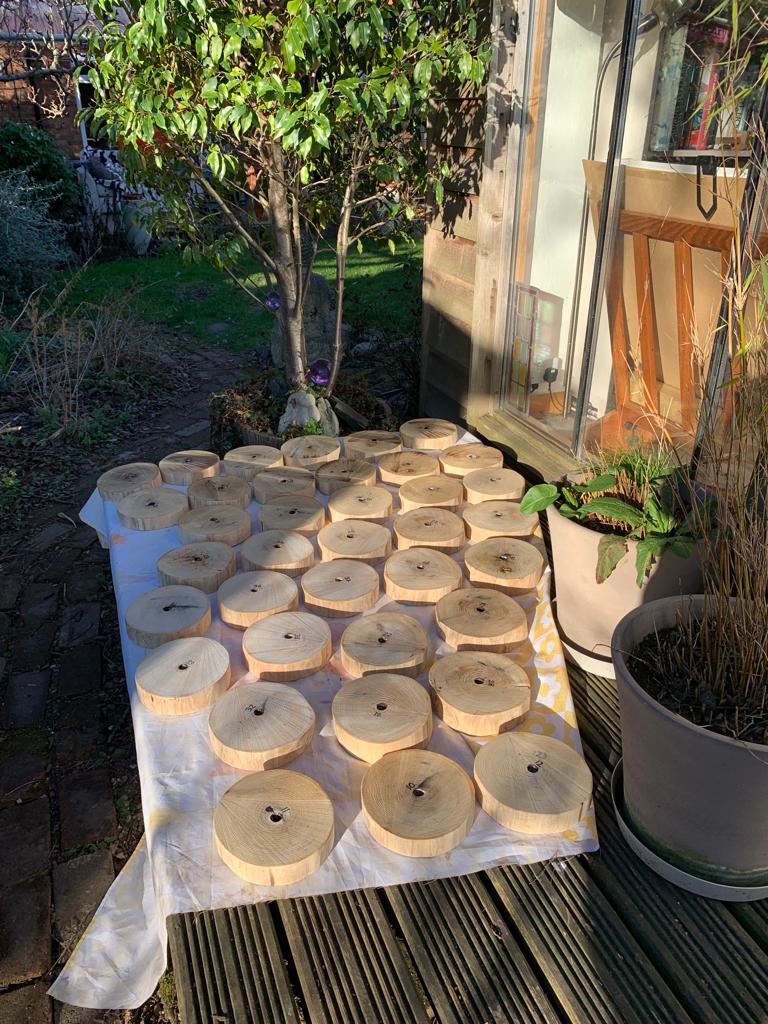 When asked why she makes art, Akasalila talks about mystery and magic, about the power of art to create a sacred space in which to slow down and open our senses. And why does she make posts? This began after she discovered the artist Andre Cadere; the first homage was made from an old partly rotten fence post that had been propping up an apple tree in the garden.
She fell in love. This is the criteria – to fall in love with the work so it is anchored in it. The post becomes the 'support' for ideas and observations. During lockdown both Akasalila's parents died. They were both abstract painters. At the same time she began exploring this medium; the posts are alchemical, marking the passage between death and rebirth.
Speaking about what she likes about this work;
I like the simplicity of the modular components which have infinite possibility, like threading and rethreading the beads of a necklace when you're a child. All the combinations of shape, size colour, texture. I love their totemic, still upright nature just waiting to be seen and touched. I enjoy the alchemy of upcycling of old utilitarian posts into things of beauty and uselessness. I also like the link between the word post and the object. As soon as the prefix post is used it becomes a time-based piece… Posts mark places and identify specifics. But mostly these posts are anchors in a fast and unpredictable world.
This exhibition is a rare opportunity to see Akasalila's art up close and appreciate the intricate details of her work while marking and celebrating Adhisthana's first decade. We invite you to come and experience the beauty and impermanence of Akasalila's work and see it change through the year within the landscape around it.