Many people who visit Adhisthana have a strong impulse to give their time and energy to the project. Adhisthana thrives on volunteers, and we want to give opportunities to as many people as possible. Having volunteers is a great opportunity for people to become part of the wider Adhisthana network, and develop relationships with the place, the community and Bhante.
We're particularly interested in skills in any of the categories below: Building, Gardening, Plumbing, Electrics, Cooking, Cleaning, Painting and Decorating, Audio/Video Editing, Graphic design, Tech, Admin
If would like to find out more please email us. Unfortunately, due to immigration law, we can only accept volunteers who have an existing right to work in the UK (this now excludes citizens of the European Union, but not Ireland).
Adhisthana came alive to me in a more personal way though volunteering. Joining with the community over those few days gave me a hearty appreciation for everything that goes in to the life of Adhisthana, and I so enjoyed putting all of myself into physical work, showing my gratitude in giving something back (with buckets of earth!)
Keep an eye out for upcoming work retreats, where you can come together with other volunteers and the Operations Team, to participate in the collective project of beautifying Adhisthana.
When I first attended for a retreat at Adisthana I was drawn to being part of and helping to maintain the inner and outer beauty I could see was being created there. Volunteering has given me the opportunity to do just that. Working in the gardens, cleaning or doing the laundry always puts me in touch with a deep gratitude for my teachers and all who make this movement and order a reality.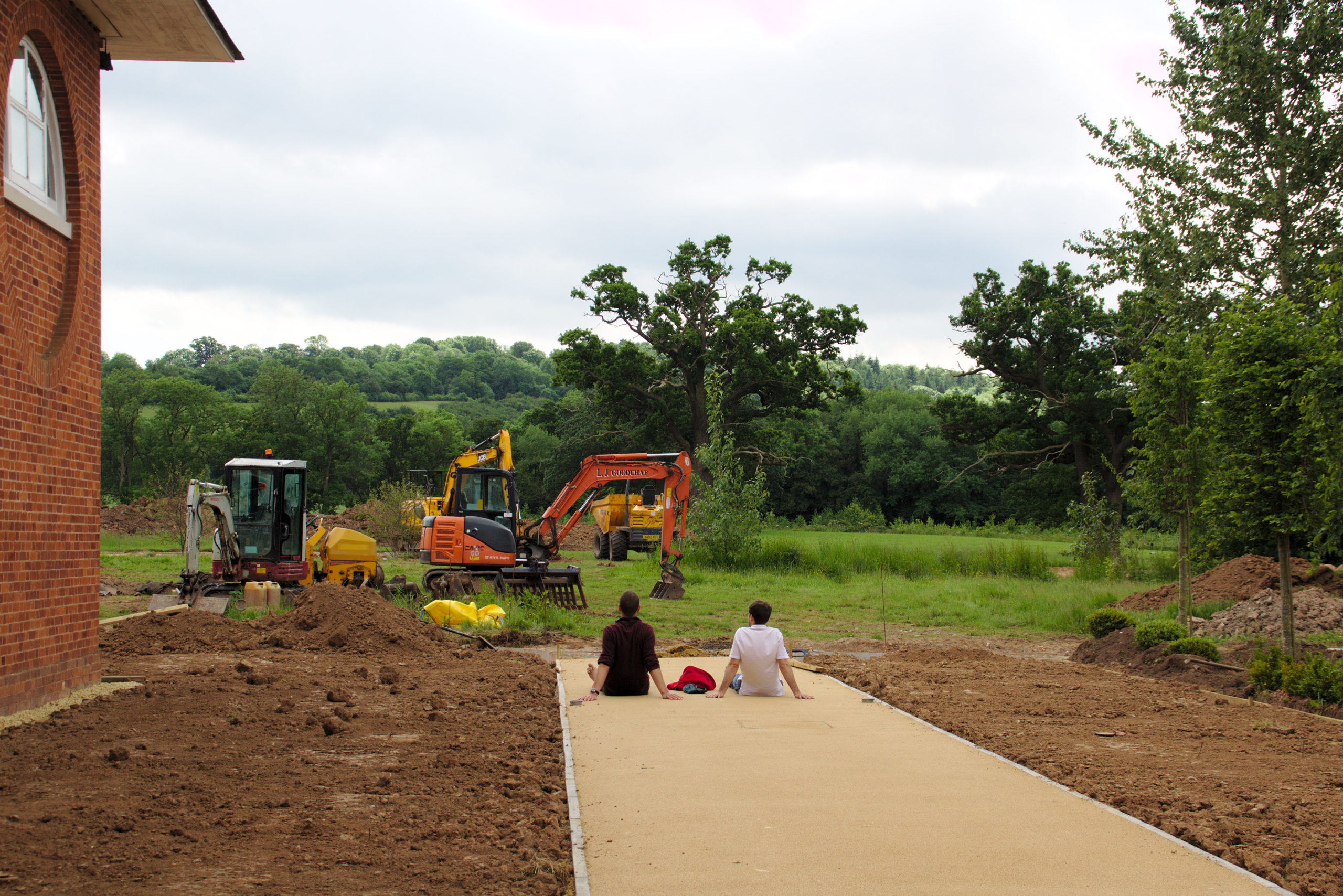 The Adhisthana Operations Team is looking for community-minded Order Members and Mitras in training for Ordination who would like to serve Bhante's vision. We particularly welcome applications from those with experience in maintenance, horticulture, cooking, tech or admin, but we're keen to hear form anyone who wants to commit themselves to a full Dharma life at Adhisthana. See our current vacancies below.

For more information or to inquire, please contact Khemabandhu.
Working and living at Adhisthana gives me the opportunity to grow spiritually in the challenge of a strong and harmonious community and team, and meeting people here from within many places in Triratna is very enriching.
VACancy: Marketing, Publicity & Communications
Developing and executing a marketing strategy, you'll work closely with the Dharma Team to understand and communicate to the Order, movement and general public the vision and events of Adhisthana. We're expanding to serve the international community with online offerings, to build up a large archive of quality Dharma teaching from the movements most experienced teachers and be an important voice in Triratna's presentation and deepening practice of the Dharma. So there's significant scope for new ideas and creativity as our marketing, publicity and communications needs have greatly expanded. For a GFR Mitra or Order Member.
Desired experience with or willingness to learn:
Developing a marketing strategy, to maximise access to and participation in Adhisthana events
Social media management (Facebook, Instagram, YouTube)
Website editing (WordPress)
Copywriting (emails, blogs, event blurbs etc)
Content creation and management (videos, audio, interviews, promos)
Basic Graphic design (with guidance from Dhammarati, an experienced Graphic Designer)
Basic video editing
Printing posters & Flyers
Building & coordinating a team of on-the-ground ambassadors around the world to promote our events
Get in touch with the manager: james@adhisthana.org
VACancy: Maintenance
With 7 buildings ranging from 30 to 230 years old, there's plenty of upkeep required across our site. Our longstanding, hardworking and capable maintenance man, Yashodeva, has recently been appointed a Public Preceptor and will have less time and energy available to make our buildings look loved and cared for. You'll work under the guidance of Yashodeva when he's around and will need to be confident and self-driven when he's off leading ordination training retreats. For a GFR Mitra or Order Member.
Possible tasks include:
General Repairs
Painting & Decorating
Basic Plumbing
Window & Door Repairs
Gutters & Drains
Lighting
Renovations & Upgrades
Get in touch with the manager: james@adhisthana.org
VACancy: Assistant to the manager & Dharma TEam
You will work closely with the Manager and Dharma Team to help us with the ambitious project of unfolding the vision of Adhisthana to its full potential with the opportunity to take on significant responsibility. You will be strongly driven by the desire to serve this project. For a GFR Mitra or Order Member.
Desirable qualities:
Eye for detail
Good organisation
Ability to work to deadlines
Discretion and trustworthiness
Basic tech competency
Great communication and team working skills
Tasks include:
Arranging meetings, taking minutes, scheduling, compiling agenda
Supporting projects
Writing
Document preparation
Research
Aptitude for proofreading
Basic video editing (bonus)
Get in touch with the manager: james@adhisthana.org
VACancy: Online Programme Coordinator
You will work very closely with the Dharma Team to be the driving force behind our new push for a strong online presence making extensive use of our new Connected Shrine Room. You will be driven by the desire to serve and vivify this project. Our online programme could include live classes, courses, puja and a 'thought for the week' with plenty of scope for new ideas and creativity. The need for this role will arise towards the end of 2021 after our online program has started, but we welcome expressions of interest now. For a GFR Mitra or Order Member.
Desirable qualities:
Motivated and able to make ideas happen
Understanding of how people engage with online content
Competent with technology (Zoom, webcams, microphones etc)
Basic video editing (or willingness to learn)
Comfortable with hosting online sessions, good presentation skills
Ability to coordinate, liaise and work with Dharma teachers
Requirement to work flexibly (e.g. evenings) as required by scheduled online sessions
International focus (accommodating a range of timezones, languages)
Opportunity for Dharma Teaching (for an Order Member)
Comfortable doing fundraising/dana appeals
Get in touch with the manager: james@adhisthana.org
In 2020 Adhisthana formed a Dharma Team to hold and execute the vision and direction of Adhisthana. The existing team consists in Saddhanandi, Saddhaloka, Dhammarati, Shubhavyuha & James with Ratnagosha joining in Autumn 2021. We are looking for two more experienced Order Members to join us! It's a great opportunity to dedicate yourself to ensuring Bhante's legacy is passed on.
If you're interested, please contact the Dharma Team.
I had no hesitation in saying yes [to joining the Dharma Team], because I am very keen on the in-depth exploration and dissemination of the teachings of Bhante Sangharakshita and I want to do all I can to further the cause of creating and developing our worldwide Triratna Community and the inspiring vision of a vast web of spiritual friendships embracing many cultures and continents.