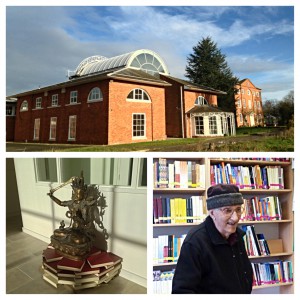 Right at the heart of Adhisthana is the Sangharakshita Library – a collection of books and artefacts collected by Bhante over his lifetime, plus a wealth of letters, papers, photos and images connected with him and his life. One of the most important roles of Adhisthana will be caring for this precious legacy. It will be a way of future generations having a tangible connection with the founder of our sangha, and getting a sense of him and his life's work. It will be there for scholars and historians who want a deeper understanding of our movement and Sangharakshita's insights into how the Buddhist tradition needed to be translated for the modern world.
We'd like to invite you to come and celebrate the opening of the Sangharakshita Library at Adhisthana on Sunday January 11th, 2.30 to 4.30 pm.
You'll be able to hear about the origin of the library, about what can be found in the collection, and about plans for its future as part of the life of Adhisthana. There will also be the launch of a new anthology of Bhante's writings: Metaphor, magic and mystery: an anthology of writings and teachings on words and their relation to the truth. And there will be tours of the library followed by tea and cake!
Please come and join us. It would be helpful if you could let us know if you are coming by sending an email to admin@adhisthana.org. Please note that as the opening is taking place in the context of an event (the European Chairs Assembly) at Adhisthana, we'll need to ask you to leave before 6pm so the event can continue.