Most of the money for the purchase of Adhisthana came from the sale of Madhyamaloka. Madhyamaloka, and its annexe in nearby Park Hill, was purchased in 1995 to house  members of the new Preceptor's College Council, and has been Bhante's home for most of that time.
Today we finished clearing the house, and handed over the keys to the young family who are moving in.
Thanks to everyone who contributed to Madhyamaloka over the last 18 years; too many to mention. And thanks to those who worked so hard in the last week to make the move possible, especially Sanghadeva and Karunika; Jnanarakshita; Kalyanaprabha; Gareth and Shuddhakirti; Subhadra and Bernard; Sean and Colum…

Bhante's  study, where he saw kotis of visitors during his time at Madhyamaloka

The dining room.
The sofa room, venue for many meetings in the last 18 years

The conservatory
Bedrooms empty.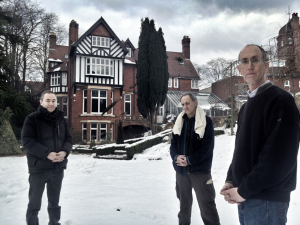 Karunika, Sanghadeva and Mahamati after a closing ritual in the garden.