Viele Menschen, die Adhisthana besuchen, haben einen starken Impuls, ihre Zeit und Energie in das Projekt einzubringen. Adhisthana lebt von Freiwilligen und wir möchten so vielen Menschen wie möglich die Möglichkeit geben, sich zu engagieren. Ehrenamtlich zu arbeiten ist eine großartige Gelegenheit für Menschen, Teil des größeren Adhisthana-Netzwerks zu werden und eine Verbindung mit dem Ort, der Gemeinschaft und Bhante zu entwickeln.
Wir sind besonders an Fähigkeiten in einer der folgenden Kategorien interessiert: Bauen, Gartenarbeit, Klempnerarbeiten, Elektrik, Kochen, Reinigung, Malerei und Dekoration, Audio-/Videobearbeitung, Grafikdesign, Technik und Verwaltung.
Wenn Sie mehr erfahren möchten, schreiben Sie uns eine Email!Leider können wir aufgrund von Einwanderungsgesetzen nur Freiwillige aufnehmen, die ein bestehendes Recht haben, in Großbritannien zu arbeiten (dies schließt nun Bürger der Europäischen Union aus, jedoch nicht solche aus Irland).
Adhisthana wurde für mich durch die Freiwilligenarbeit auf eine persönlichere Weise lebendig. Sich der Gemeinschaft für diese paar Tage anzuschließen, weckte in mir eine tiefe Wertschätzung für alles, was zum Leben von Adhisthana dazugehört und ich genoss es so sehr, mich ganz in die körperliche Arbeit zu stürzen und meine Dankbarkeit zu zeigen, indem ich etwas zurückgab (mit Eimern voller Erde!)
Behalten Sie die kommenden Arbeits-Retreats im Auge, bei denen Sie mit anderen Freiwilligen und dem Operations Team zusammenkommen können, um an dem gemeinsamen Projekt der Verschönerung von Adhisthana teilzunehmen.
Als ich zum ersten Mal an einem Retreat in Adisthana teilnahm, fühlte ich mich dazu hingezogen, ein Teil der inneren und äußeren Schönheit zu sein und mitzuhelfen, diese zu erhalten. Die Freiwilligenarbeit hat mir die Möglichkeit gegeben, genau das zu tun. In den Gärten zu arbeiten, zu putzen oder die Wäsche zu machen, bringt mich immer in Kontakt mit einer tiefen Dankbarkeit für meine Lehrer und Lehrerinnen und alle, die diese Bewegung und den Orden Wirklichkeit werden lassen.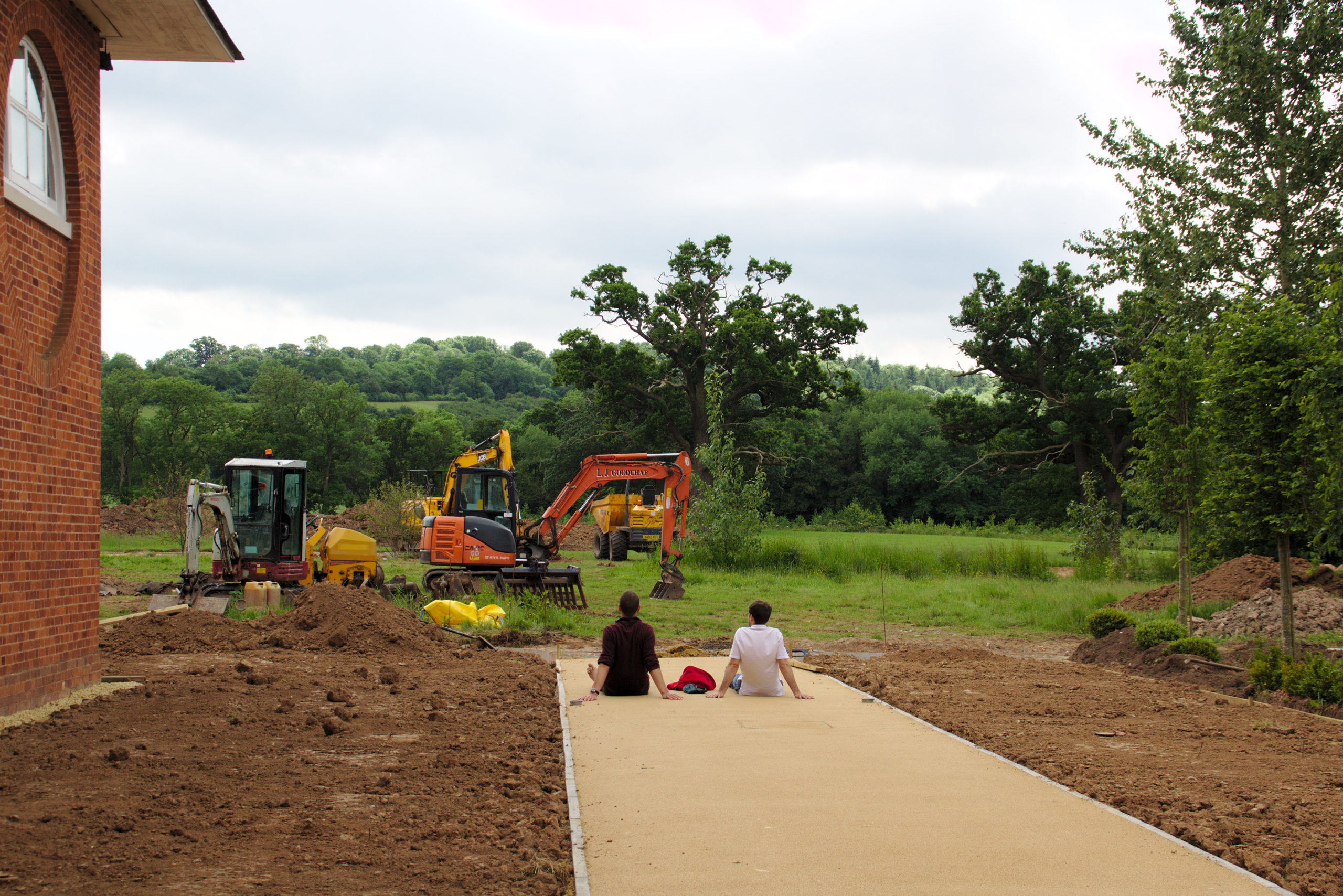 The Adhisthana Operations Team is looking for community-minded Order Members and Mitras in training for Ordination who would like to serve Bhante's vision. We particularly welcome applications from those with experience in maintenance, horticulture, cooking, tech or admin, but we're keen to hear form anyone who wants to commit themselves to a full Dharma life at Adhisthana. See our current vacancies below.

For more information or to inquire, please contact Khemabandhu.
Working and living at Adhisthana gives me the opportunity to grow spiritually in the challenge of a strong and harmonious community and team, and meeting people here from within many places in Triratna is very enriching.
We currently have a number of vacancies for which we're recruiting. Below is a list of roles we need filled. Depending on skills, experience and temperament some new hires will fulfil two of these roles. e.g. one person taking on to cook part-time and be an online retreat technician part time.
ROLE: Front of house
The Front of House is the first point of contact for those coming to Adhisthana, and plays a central role in communications, both with those who live at Adhisthana, and those who visit this place. This also involves coordinating the practical aspect of retreats and meetings here, from arrival through to departure. We're looking for someone to work with Caroline, our current Front of House, to maintain and improve the standard of communication and organisation of our events.
Some experience of working in an administrative forward-facing role is ideal. You will receive training on the job. A desire to create the best conditions for our retreatants and guests to contact the Dharma is required. For a GFR Mitra or Order Member.
Get in touch with Khemabandhu.
ROLE: Cook
The kitchen plays a central role at Adhisthana nourishing and sustaining retreatants, guests and the communities. We're looking for someone to work with Lizzie, our catering-trained Kitchen Manager, to keep up a steady flow of delicious food produced in a friendly, harmonious kitchen.
Some experience of cooking for large numbers is ideal. You will receive training on the job. A desire to create the best conditions for our retreatants and guests to contact the Dharma is required. For a GFR Mitra or Order Member.
Get in touch with Khemabandhu.
ROLE: Technician (ONLINE Retreats)
An exciting new expansion at Adhisthana is the development of a strong online programme, building on all that we learnt during the lockdown of 2020 and allowing us to reach more and more people. Our team of online retreat tech support is looking for a new member to help us take on a full programme of online events for 2021, using our new dual retreat setup, which allows us to discreetly broadcast residential retreats to online retreatants.
Desired experience with or willingness to learn:
Running events on zoom
General computer competence
Willingness to serve retreatants and retreat leaders
Responsive
Friendly manner
Willing to work in a team
Get in touch with Khemabandhu.
ROLE: Marketing, Publicity & Communications
Developing and executing a marketing strategy, you'll work closely with the Dharma Team to understand and communicate to the Order, movement and general public the vision and events of Adhisthana. We're expanding to serve the international community with online offerings, to build up a large archive of quality Dharma teaching from the movements most experienced teachers and be an important voice in Triratna's presentation and deepening practice of the Dharma. So there's significant scope for new ideas and creativity as our marketing, publicity and communications needs have greatly expanded. For a GFR Mitra or Order Member.
Desired experience with or willingness to learn:
Developing a marketing strategy, to maximise access to and participation in Adhisthana events
Social media management (Facebook, Instagram, YouTube)
Website editing (WordPress)
Copywriting (emails, blogs, event blurbs etc)
Content creation and management (videos, audio, interviews, promos)
Basic Graphic design (with guidance from Dhammarati, an experienced Graphic Designer)
Basic video editing
Printing posters & Flyers
Building & coordinating a team of on-the-ground ambassadors around the world to promote our events
Get in touch with Khemabandhu.
ROLE: full-stack web developer
During the lockdown of 2020 we took the opportunity to rebuild our website which launched early in 2021, but the work is far from over. As we expand our online offering the website will need to respond and adapt. We're looking for a web developer to take on this task. There is the opportunity to combine web development work with other, more hands-on tasks. For a GFR Mitra or Order Member.
Ideally experience with:
Get in touch with Khemabandhu.
ROLE: Maintenance
With 7 buildings ranging from 30 to 230 years old, there's plenty of upkeep required across our site. Our longstanding, hardworking and capable maintenance man, Yashodeva, has recently been appointed a Public Preceptor and will have less time and energy available to make our buildings look loved and cared for. You'll work under the guidance of Yashodeva when he's around and will need to be confident and self-driven when he's off leading ordination training retreats. For a GFR Mitra or Order Member.
Possible tasks include:
General Repairs
Painting & Decorating
Basic Plumbing
Window & Door Repairs
Gutters & Drains
Lighting
Renovations & Upgrades
Get in touch with Khemabandhu.
ROLE: Assistant
You will work closely with the Manager and Dharma Team to help us with the ambitious project of unfolding the vision of Adhisthana to its full potential with the opportunity to take on significant responsibility. You will be strongly driven by the desire to serve this project. For a GFR Mitra or Order Member.
Desirable qualities:
Eye for detail
Good organisation
Ability to work to deadlines
Discretion and trustworthiness
Basic tech competency
Great communication and team working skills
Tasks include:
Arranging meetings, taking minutes, scheduling, compiling agenda
Supporting projects
Writing
Document preparation
Research
Aptitude for proofreading
Basic video editing (bonus)
Get in touch with Khemabandhu.
ROLE: Online Programme Coordinator
You will work very closely with the Dharma Team to be the driving force behind our new push for a strong online presence making extensive use of our new Connected Shrine Room. You will be driven by the desire to serve and vivify this project. Our online programme could include live classes, courses, puja and a 'thought for the week' with plenty of scope for new ideas and creativity. The need for this role will arise towards the end of 2021 after our online program has started, but we welcome expressions of interest now. For a GFR Mitra or Order Member.
Desirable qualities:
Motivated and able to make ideas happen
Understanding of how people engage with online content
Competent with technology (Zoom, webcams, microphones etc)
Basic video editing (or willingness to learn)
Comfortable with hosting online sessions, good presentation skills
Ability to coordinate, liaise and work with Dharma teachers
Requirement to work flexibly (e.g. evenings) as required by scheduled online sessions
International focus (accommodating a range of timezones, languages)
Opportunity for Dharma Teaching (for an Order Member)
Comfortable doing fundraising/dana appeals
Get in touch with Khemabandhu.
In 2020 Adhisthana formed a Dharma Team to hold and execute the vision and direction of Adhisthana. The existing team consists in Saddhanandi, Saddhaloka, Dhammarati, Shubhavyuha & James with Ratnagosha joining in Autumn 2021. We are looking for two more experienced Order Members to join us! It's a great opportunity to dedicate yourself to ensuring Bhante's legacy is passed on.
If you're interested, please contact the Dharma Team.
I had no hesitation in saying yes [to joining the Dharma Team], because I am very keen on the in-depth exploration and dissemination of the teachings of Bhante Sangharakshita and I want to do all I can to further the cause of creating and developing our worldwide Triratna Community and the inspiring vision of a vast web of spiritual friendships embracing many cultures and continents.